Friday Hearsay and Conjecture
Arrington Charges Dropped
Domestic Violence charges against Adrian Arrington were dropped
by Ypsilanti prosecutors Thursday after Arrington's (current/former?) girlfriend failed to show at a pretrial hearing. She stated she did not wish to press charges and was only concerned about Arrington driving after he'd been drinking. All charges against Arrington have now been cleared and he is free of any further legal entanglements as a result of this incident.
Note to Michigan players and all college aged kids:
If you're drinking in a bar, underaged, the key thing is NOT to draw attention to yourself. Especially if you're one of the STARTING RECEIVERS on a potential MNC contender. I'm glad this got cleared up but I sincerely hope Adrian learned something from this. Stupid, self-destructive acts have a tendency to bite you in the ass eventually. Someone get him Theo Fluery's phone number. A fifteen minute phone call with Theo will keep Adrian out of the bars for good.
Why Didn't He Just Ask Santa
Wisconsin bad ass cornerback Jack Ikegwuonu and his twin brother apparently think they play at Miami, where you can generally get away with moronic and criminal behavior.
The Ikegwuoni were arrested Thursday
on felony residential burglary charges when the two tried to break in to an off campus residence to and steal a X-Box.
X-Box or football career? X-Box or football career?
Why is this so hard?
A felony charge of residential burglary carries a maximum penalty of four years in prison and a $25,000 fine. Jack's brother William, a safety at Northern Illinois, was immediately suspended by NIU. No word yet on Jack's status.
Dumbasses. The Wii is the only thing out there worth stealing for.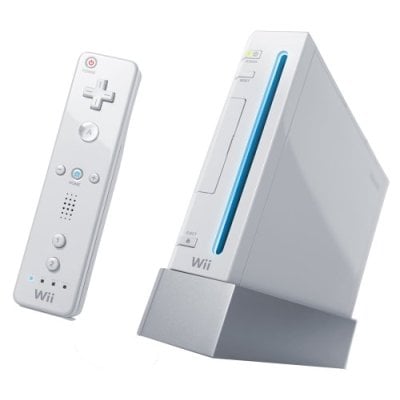 My Precious...
Looks Like LSU Afterall
Money talks. Usually that means Notre Dame gets what it wants. Not this time. LSU's rabid fan base has plopped down money on
over 32,000 pre-sale ticket orders
to the Rose Bowl before their team has even been invited.
As a result, one of the Rose Bowl Board members leaked the news that LSU will play Michigan or USC in the Rose Bowl. While the Rose Bowl and LSU have made no official announcement, there's no way they're leaving that kind of money on the table.
The best bowl game this year will be whatever game Michigan plays in. Nice to know either way they've got great competition.
Go Bruins!
I am officially the second biggest Bruins fan in the world today and tomorrow. I don't think anyone can top
Nestor
. For all your UCLA related cheering needs visit
Bruins Nation
. If you're still on the fence about rooting for UCLA, behold,
their cheerleading squad
.
I wish I was back in school so
I could transfer just for the spring semester.*
However, when Michigan and UCLA meet on the hardwood I'll go back to hating their NCAA tournament bound guts. Please be nice to Courtney Sims. He means well.
*photo courtesy Bob Berghell